The Diamond X-30N is a Vertical Dual-Band Antenna [2m/70cm] with N-type Connector.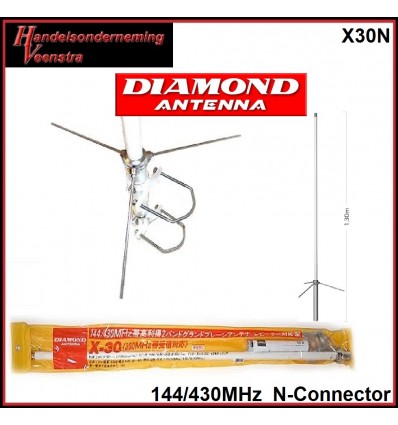 Resources
Operating Instructions [local]
Specifications [source]:

Frequency: 144 and 430 MHz
Gain: 3.0dB (VHF) to 5.5dB (UHF)
Max Power: 150 Watt
Length: 130 cm
Weight: 0.8 Kg
Rated Wind Velocity: 60m/sec.
Mast Diameter Accepted: 30-62mm diameter
Connector: N-Female
Type: Omnidoirectional 2×5/8, FRP Outersheel.
Photos
Blog
[20230125] Inspection
As can be seen from the pictures above, quite some rust has accumulated on some of the bolts. More importantly, I'm no longer trusting the mechanical stability of the chimney that much. So in Summer 2023, I should spend some time on fixing this, or construct a new antenna mount altogether.